Ordine Monastico Principato Abbaziale di Seborga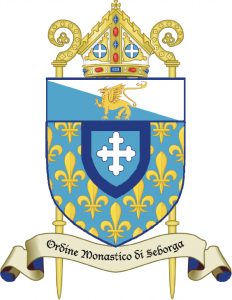 Within the religious confession Polish National Catholic Church, constituted as a religious association "P.N.C. à Monaco", duly registered with the Ministry of State of the Principality of Monaco on 14th September 2018, the "Monastic Order of Seborga" (abbreviated:. O.M.S.) is constituted by a specific resolution of the Assembly.
First of all, this Order is organised in the first Chapter based in Seborga and composed of monks, clerics, lay people and novices, and intends to give itself a special Rule, recalling that we must know and scrupulously observe the commandments given by God, so that by loving the Lord and the Holy Trinity with all our heart, mind, soul and strength, and by loving our neighbour as ourselves, we may attain the fruit of eternal life. We have come together therefore to observe the Gospel of our Lord Jesus Christ, and to live in God our Lord. Therefore, since we must always observe this Rule, we shall never seek to evade it, for "whoever puts his hand to the plough and turns back is not fit for the Kingdom of God".
The Order has its legal headquarters in Monaco at the association headquarters located at Palais de la Scala 1, Avenue Henry Dunant, and its historical-liturgical abbey headquarters in Italy, in Seborga (IM), in the heart of the ancient Principality, at Via Maccario 1.
The re-establishment of this Order, in communion with the Italian Autonomous Orthodox Church – U.A.O.C., is aimed at restoring the Ancient Order of Benedictine/Cistercian matrix that was established in Seborga by the Ancient Benedictine Fathers of the Island of Lerino, according to the rule instituted by St. Bernard of Clairvaux and in homage to St. John of Matha, another monk and great spiritual Father, where in the Seborghine countryside the ancient Oratory of St. John of the Donkey was erected in his name. This act of reconstitution is intended to highlight ecumenical values to the Holy Trinity or the fruitful and spiritually constant dialogue between Catholic and Orthodox Christians for the Unity of all Christians.